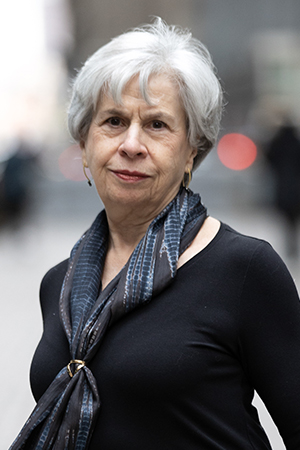 Judith P. Broach, Esq. is Of Counsel to Stulberg & Walsh, LLP, formerly Broach & Stulberg, LLP, where she was a founding partner. She is an arbitrator and mediator in employment and employee benefits disputes.  She is a member of both the American Arbitration Association ("AAA") National Roster of Neutrals and the AAA National Panel of Multiemployer Pension Plan Withdrawal Liability Arbitrators.  She also serves as the court-appointed and privately agreed-upon independent fiduciary of employee benefit plans.
Ms. Broach has over 40 years of experience representing employees, employee benefit funds and labor unions in the public and private sector.  She has counseled individuals in all aspects of workplace law, negotiated employment and severance agreements, and arbitrated and litigated discrimination, retaliation, contract, wage and hour and other employment disputes. She has served as counsel to collectively-bargained employee benefit funds in plan administration, government compliance, and litigation. She also has represented labor unions in collective bargaining negotiations, arbitrations and judicial and administrative litigation. Ms. Broach regularly has appeared in federal and state trial and appellate courts and before regulatory agencies and has handled cases arising under a wide range of labor, employment and employee benefit laws.
A nationally recognized expert in labor, employment and employee benefits law, Ms. Broach is rated "AV" by the Martindale-Hubbell peer review system, the highest rating of professional excellence. She is a Fellow of the American College of Employee Benefits Counsel ("ACEBC"). Ms. Broach served on the Board of Governors of ACEBC from 2012 to 2018 and as Secretary of the College from 2014 to 2017. Other professional honors include being named a New York Super Lawyer every year from 2010 through 2021.
Ms. Broach is a member of the Bars of the States of New York and California and is admitted to practice before the U.S. Court of Appeals for the Second Circuit and the U.S. District Courts for the Southern, Eastern and Western Districts of New York. She is a member of the American Bar Association and its Section on Labor and Employment Law ("the Section"), where she served as Union Co-Chair of the Membership Development and Pro Bono Work Committees. Ms. Broach also served as Union Co-chair of the Section's Employee Benefits Committee from 2014 through 2017. Previously, she served as Union Co-chair of the Employee Benefits Committee's Sub-Committees on Civil Procedure and Discrimination in Employee Benefits.
Ms. Broach has published on issues in labor and employment law, including:
"Automation and Technological Change: A Union View," Labor Law and Business Change, Quorum Books, 1988 (co-author);
"Extending Medical Benefits," ABA Journal, December 1997;
"Desert Palace, Inc. v. Costa: The End of the Direct Evidence Requirement in Title VII Mixed Motive Cases," New York State Bar Association Labor & Employment Newsletter, Volume 28, No. 4, Winter 2003 (co-author); and
"Chapter 15," Employee Benefits Law, 2nd Edition, BNA Books, September 2000 (chapter editor and co-author).
Ms. Broach is a frequent lecturer on labor and employment law topics. She served as an adjunct instructor at the New York School of Industrial and Labor Relations at Cornell University and at the school's joint program with the Labor College at Empire State College, State University of New York. She has also served as a faculty member for the American Bar Association National Institute on ERISA Litigation and the American Bar Association National Institute on ERISA Basics.
Prior to forming Broach & Stulberg, LLP, Ms. Broach was a partner at Vladeck, Waldman, Elias & Engelhard, P.C. in New York City.
Ms. Broach received a B.A. from Vassar College in 1970 and a J.D. from the University of San Francisco School of Law in 1975, where she was senior editor of the Moot Court Executive Board and served as a teaching assistant in Legal Research and Writing.