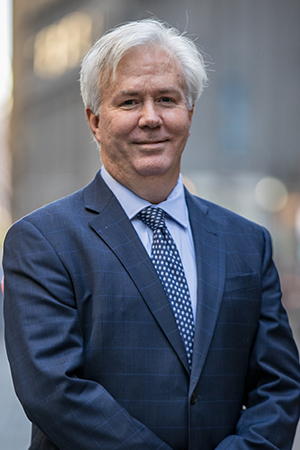 Patrick J. Walsh, Esq. is a Partner at Stulberg & Walsh, LLP (formerly Broach & Stulberg, LLP) where he practices labor, employment and civil rights law.
Mr. Walsh is an experienced litigator who represents employees, labor unions, employee benefit funds, and disability and worker advocacy organizations before federal and state courts, regulatory bodies, administrative tribunals, and arbitrators. Mr. Walsh is also a seasoned appellate advocate, who has argued more than 150 appeals before the United States Courts of Appeals for the Second and Third Circuits, the New York Court of Appeals, and all four Departments of the New York Appellate Division, and has represented employee and civil rights organizations as amicus curiae in important appellate litigation.
In his employment practice, Mr. Walsh counsels executives and professionals in a range of fields in all aspects of workplace law, including negotiation of employment and severance agreements, and litigation of contract disputes, sexual harassment, discrimination, WARN Act, and whistleblower matters. Mr. Walsh also has protected workers' rights under the federal Fair Labor Standards Act and state and local wage laws, and has brought civil rights actions on behalf of employees for violation of their constitutional rights.
In his labor practice, Mr. Walsh represents both public and private sector labor unions in collective bargaining negotiations, contract arbitrations, mediations, government investigations, administrative proceedings and litigation.
In particular, Mr. Walsh counsels public sector unions with respect to public contracting, Project Labor Agreements, prevailing wage laws, civil service rights, and collective bargaining rights under the Taylor Law and New York City Collective Bargaining Law. Mr. Walsh has represented unions successfully in unfair labor practice and strike-related matters before the National Labor Relations Board, New York State Public Employment Relations Board, New York City Office of Administrative Trials and Hearings, and New York City Office of Collective Bargaining.
Mr. Walsh also represents employee benefit funds and independent fiduciaries in plan administration and litigation under the Employee Retirement Income Security Act.
Mr. Walsh is a member of the Bar of the State of New York and is admitted to practice before the U.S. Supreme Court, the U.S. Courts of Appeals for the Second and Third Circuits and the U.S. District Courts for the Southern and Eastern Districts of New York.
Mr. Walsh started his legal career representing migrant farmworkers in Kentucky, Texas and rural Florida, first as a Skadden Fellow, and later, a National Association for Public Interest Law Fellow. He spent more than a decade handling appeals for New York State in the New York Attorney General's Division of Appeals and Opinions, and previously represented employees and labor unions at the firm of Gladstein, Reif & Meginniss, LLP. Mr. Walsh also served as a federal judicial clerk for United States District Judge Lawrence M. McKenna (S.D.N.Y.). Prior to law school, Mr. Walsh worked with Service Employees International Union in Georgia, and in broadcast journalism for CNN Headline News.
Mr. Walsh is an active member of the AFL-CIO Lawyers Coordinating Committee and a contributor to the AFL-CIO Building & Construction Trades Department's "Construction Organizing: An Organizing & Contract Enforcement Guide," Chapter on Project Labor Agreements, Responsible Contracting Policies, and Prevailing Wage Laws (2018). He is also a member of the American Bar Association's Section on Labor & Employment Law (ABALEL) and the author of "Round 2 for #MeToo: The Movement Embraces Collective Action as State and Federal Responses Diverge," published in the Spring 2019 edition of Labor and Employment Law, the ABA-LEL's quarterly national newsletter.
Mr. Walsh received his J.D. degree in 1995 from Fordham University School of Law, where he was a member of the Law Review, and a B.A. with Honors from Brown University in 1989, where he studied history and modern poetry. He speaks Spanish fluently.