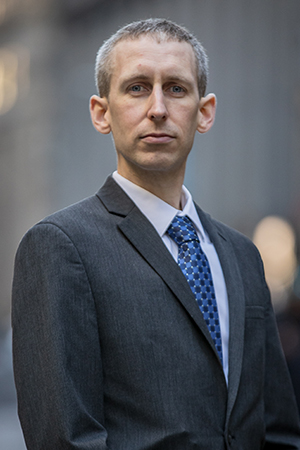 James deBoer, Esq. joined Stulberg & Walsh as an Associate in September of 2022, with admissions to the New York Bar and the New Jersey Bar.
James deBoer's areas of focus include workers and employment rights litigation, countering discrimination, grievance arbitration under public and private sector collective bargaining regimes, union recognition, and E.R.I.S.A. benefits law.
Immediately prior to serving at Stulberg & Walsh, James deBoer clerked for the Hon. Judge Jeffrey Beacham, J.S.C., in the Essex Vicinage of the New Jersey Superior Court, assisting the judge with civil matters at the trial level. Other relevant legal experiences include a Pro Bono Scholars placement at TakeRoot Justice's Workers Rights Section, a Peggy Browning Fellowship at Cohen, Weiss, and Simon, and a year-long externship with the Labor Bureau of the Office of the Attorney General of New York. James deBoer attended law school at NYU as a Root-Tilden-Kern Public Interest Scholar, serving on the board of Law Students for Economic Justice and helping launch the Coalition on Labor Action according to Workers and Students (CLAWS).
James deBoer is dually ordained in the American Baptist Churches and the United Church of Christ, having pastored a church in Essex County, New Jersey where multiple congregants experienced work-related injustices including erratic shift assignments and discrimination. Their encounters with these widespread challenges in the community propelled Rev. deBoer to become a lawyer.
Education:
Brown University (B.A. in History, with honors)
Yale Divinity School (Masters of Divinity)
New York University (J.D. cum laude)
Selected Bibliography:
"Interpersonal Deep Listening on Civil Rights", Workshop Facilitator, Oct. 23, 2022, delivered at Holmdel Community United Church of Christ
"Protecting Workers at Churches and Other Religious Institutions in light of the Ministerial Exception", proposed resolution prepared and submitted to the Board of the United Church of Christ, December 2020
"Understanding the Ministerial Exception for Pastors and Churches": Series of three educational videos, Summer 2021