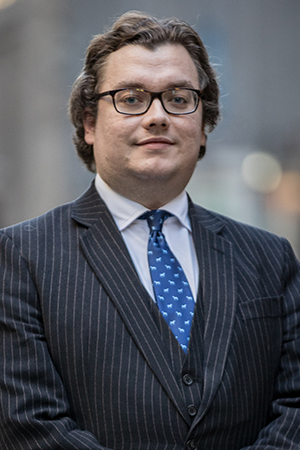 Mr. Finn completed his initial legal education at the University of Oxford and earned a Bachelor of Arts in Jurisprudence with Honors in Law in 2017. He then worked as a Case Manager on the Securities Remediation and Perfection Project at Allied Irish Banks, p.l.c. in Dublin, one of the Pillar Banks of Ireland.
Following this he served as a Judicial Assistant in the Courts Service of Ireland from 2018 to 2021, a civil service position analogous to an American clerkship. Initially, he was assigned to the Judicial Researchers' Office, assisting the District Court of Ireland and its trial judges handling civil matters and the equivalent of misdemeanors. In January 2019, he was assigned as a Judicial Assistant to The Hon. Mr. Justice Donal O'Donnell, Chief Justice of the Supreme Court of Ireland—the apex appellate court of the jurisdiction. In that capacity, he researched and proofread judgments and determinations, and edited the most recent official text of the Constitution of Ireland for ratification by the President, Prime Minister and Chief Justice. He also developed new procedures for remote courts in response to the COVID-19 pandemic.
In August, 2021, Mr. Finn commenced his studies for the Master of Laws program at Columbia Law School, and graduated in May 2022 as a Harlan Fiske Stone Scholar. He successfully passed the Bar Exam for the State of New York in July 2022 and is due to be admitted as an Attorney and Counselor-at-Law in due course. In November, 2021, his case note on the Irish Supreme Court case of Student Transport Scheme v. Bus Éireann [2021] IESC 22 won the Best Overall Article Award for the 10th edition of the King's Inns Law Review, the student-led law journal of the educational institution of the Bar of Ireland.