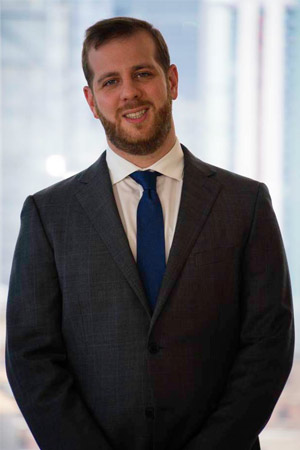 Zachary Russell Bergman, Esq., joined Broach & Stulberg, LLP (now Stulberg & Walsh, LLP) as an Associate in the Summer of 2018.
At Stulberg & Walsh, LLP, Mr. Bergman primarily practices labor, employment and civil rights law, representing individual and institutional clients in federal and state court, before the Merit Systems Protection Board, pursuant to the United Nations' internal justice system, and in front of federal and state agencies. In his employment practice, he represents executives and professionals in all aspects of workplace law, including negotiation of employment and severance agreements, and litigation of contract disputes, sexual harassment, discrimination, and whistleblower matters. In his labor practice, Mr. Bergman represents labor unions in collective bargaining negotiations, mediations, disciplinary hearings, government investigations, administrative proceedings and litigation.
Before joining the firm, Mr. Bergman served for three years as an Assistant Corporation Counsel in the Special Federal Litigation Division of the New York City Law Department. In that capacity, he acted as lead counsel in approximately 50 federal civil rights cases (including a five-day jury trial), in which he handled dozens of dispositive motions, depositions, mediations, and court and settlement conferences. In recognition of his stellar service, Mr. Bergman was awarded the Law Department's "Rookie of the Year Award" following his first-year of practice.
Mr. Bergman earned his J.D. degree at Cornell Law School in 2015, where he worked as Notes Editor on the Cornell Journal of Law and Public Policy, in which his note, Testing Solutions for Adult Film Performers, was published in Volume 24. He also served as Co-President of the Alternative Dispute Resolution Society, competed on the Vis Moot Court Team in Vienna, Austria, and at the ABA Representation in Mediation Competition, and worked in Cornell's Advocacy for Lesbian, Gay, Bisexual, and Transgender Communities Clinic.
Mr. Bergman earned his Bachelor of Science degree in 2010 from Cornell University's School of Industrial and Labor Relations, where he focused on labor relations studies and interned at the International Labour Organization in Geneva, Switzerland.
Mr. Bergman is a member of the Bar of the State of New York, and is admitted to practice in the Eastern and Southern Districts of New York. He serves as a Member of the Disability Law Committee and an Affiliate Member of the Labor & Employment Law Committee of the Association of the Bar of the City of New York. Mr. Bergman is also a member of the AFL-CIO Lawyers Coordinating Committee, and a contributor to the AFL-CIO Building & Construction Trades Department's "The Campaign Guide: Organizing and Contract Enforcement in the Construction Industry 2018-2019 Developments".