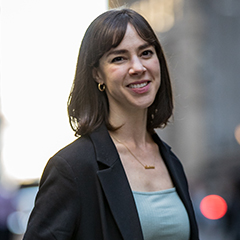 Julie Dabrowski, Esq., is an Associate at Broach & Stulberg, LLP (now Stulberg & Walsh, LLP) and represents clients primarily in labor, employment, and civil rights matters.
Ms. Dabrowski began her legal career clerking for a judge at the United States Department of Labor's Office of Administrative Law Judges, which issues decisions in workers' compensation, whistleblower, wage and hour, and immigration cases. Prior to joining Stulberg & Walsh, LLP, Ms. Dabrowski worked at the firm of Virginia & Ambinder, LLP, where she represented multi employer employee benefit plans in state and federal court litigation.
Ms. Dabrowski received her bachelor's degree from Tulane University in 2008, where she studied political science, English literature, and dance. She received her law degree from American University's Washington College of Law in 2014. At American, she was an Articles Editor on the American University Law Review. Her note, "The Exception that Doesn't Prove the Rule: Why Congress Should Narrow ENDA's Religious Exemption to Protect the Rights of LGBT Employees," was published in Volume 63.6 of the Law Review.
During law school, Ms. Dabrowski served as a student attorney with the American University Disability Rights Law Clinic, where she represented clients in matters relating to physical and mental disability. She also interned at the Civil Rights Division of the United States Department of Justice and served as a fellow at a law firm representing employees and labor unions.
Ms. Dabrowski is admitted to practice law in New York and New Jersey and in the Southern and Eastern Districts of New York. She is a member of the New York City Bar Association's Disability Law Committee and Women in the Legal Profession Committee, as well as a member of the New York State Bar Association's Equal Employment Opportunity Committee.